Oskar Barnack
01 November 1879 ~ 16 January 1936
Martyred Saint of Photography.
Creator of the LEICA.
Inventor of the 35mm camera.
Inventor of the full-frame 24 × 36mm format.
~ and therefore ~
Creator of photography as we know it today.
This all-content, junk-free website's biggest source of support is when you use those or any of these links to approved sources when you get anything, regardless of the country in which you live. Thanks for helping me help you! Ken.
July 2011      Leica Camera Reviews    Leica Lens Reviews
Oskar Barnack was a German engineer who started working in the motion picture camera department of Leitz in 1911.
He invented many improvements to motion picture camera film transport design.
Oskar Barnack invented a small camera that used short clips of 35mm movie film that mounted alongside a regular motion picture camera.
This allowed cinematographers to shoot a short clip of film and process it separately from the full magazine shot in the motion picture camera.
This allowed determination of exposure and development for the regular film magazine, without having to guess, or cut a clip from it, to confirm exposure.
Oskar Barnack was disabled by his asthma. He loved the outdoors and photography as a hobby, but his asthma prevented him from carrying the full-sized cameras used by others.
He created a little camera that used little rolls of film that he could carry more easily while out hiking.
Clever guy that he was, he modified his piggyback camera design to shoot larger, double-cine-frame images, and used a fixed lens that could cover the larger image area. He did this in 1913.
The standard cine frame was 18 × 24mm, thus double-frame is what still photographers call full-frame: 24 × 36mm.
Sadly this 24 × 36mm "full-frame" is too long and wide. While 18 × 24mm has the correct 4:3 proportions, the 24 × 36mm format has 3:2 proportions, meaning that for most horizontal and vertical subjects you wind up needing to crop-off the sides to more like 24 × 32mm for the best fit with the widest range of subjects.
Sadly this proportion continues to this day in digital cameras from force of inertia. It's the wrong shape, but no one has ever been successful in correcting this. 24 × 36mm was only used as it conveniently allowed Barnack to use a lot of his existing film advance hardware and simply use two frames (8 perforations) instead of one (4 perforations); it's not the correct proportion.
Nikon in the 1940s tried to sell 35mm cameras with the correct 24 × 32mm shape, which also had the advantage of getting 40 frames on a "36-exposure" roll of film. Kodak successfully lobbied Congress to prevent the import of these cameras, and thus Kodak killed these and 35mm still cameras and DSLRs have been 24 × 36mm ever since.
Since Barnack's camera didn't use full-sized film (typically 8×10″ in those days), his film had to be enlarged to make any sort of useful print. Often the film of the day was contact-printed.
Thus he needed to get taking lenses that were sharp enough to withstand enlargement.
This is what begat today's 35mm and digital cameras. World War One intervened, and after the war, Leitz introduced the Leica (LEItz CAmera) in 1925.
Oskar Barnack's vision is a small camera making small, sharp negatives that can make decent big prints. The key here is small camera.
The vision of the Leica is the smallest possible camera that can eke out passable results.
It is contrary to Oskar Barnack's vision to use big, heavy lenses or large motorized camera bodies to shoot 35mm film. The whole point is to keep the hardware small, and of decent quality.
Small is the vision. Big is contrary to the Leica.
While you're here, original lens designer Max Berek died an untimely death on 15 October 1949.
© Ken Rockwell. All rights reserved. Tous droits réservés. Alle Rechte vorbehalten.
Help Me Help You
I support my growing family through this website, as crazy as it might seem.
The biggest help is when you use any of these links when you get anything. It costs you nothing, and is this site's, and thus my family's, biggest source of support. These places always have the best prices and service, which is why I've used them since before this website existed. I recommend them all personally.
If you find this page as helpful as a book you might have had to buy or a workshop you may have had to take, feel free to help me continue helping everyone.
If you've gotten your gear through one of my links or helped otherwise, you're family. It's great people like you who allow me to keep adding to this site full-time. Thanks!
If you haven't helped yet, please do, and consider helping me with a gift of $5.00.
As this page is copyrighted and formally registered, it is unlawful to make copies, especially in the form of printouts for personal use. If you wish to make a printout for personal use, you are granted one-time permission only if you PayPal me $5.00 per printout or part thereof. Thank you!
المصور الألمانى أوسكار بارناك
جائزة ليكا أوسكار بارناك الوافد الجديد 2018
تمنح هيئة محلفين دولية جائزة لايكا أوسكار بارناك للمصورين المحترفين الذين يلتقطون صلاحياتهم في التقاط الملاحظات والتعبير عن العلاقة بين الإنسان والبيئة في الشكل الأكثر رسومات في تسلسل لا يقل عن 10 بحد أقصى 12 صورة.
ويجب أن تكون طلبات الدخول عبارة عن سلسلة قائمة بذاتها من الصور التي يتصور فيها المصور ويوثق التفاعل بين الإنسان والبيئة مع رؤية حادة وأسلوب بصري معاصر " مبدع ورائع ومبتكر"و يتم قبول إدخال واحد فقط لكل مصور.
والفائز في فئة "ليكا أوسكار بارناك جائزة الوافد الجديد" يحصل على جائزة نقدية من 10،000 يورو وكاميرا لايكا M وعدسة بقيمة 10،000 يورو, المسابقة مفتوحة لجميع المصورين (المحتملين) الذين تتراوح أعمارهم بين 25 سنة فأقل.
وسيتم قبول المشاركات حصرا كتقارير عبر الإنترنت بين 1 آذار (مارس) و 5 نيسان (أبريل) 2018.
ــــــــــــــــــــــــــــــــــــــــــــــــــــــــــــــــــــــــ
Oskar Barnack
Jump to navigation Jump to search
Oskar Barnack

Oskar Barnack

Born
1 November 1879
Died
16 January 1936 (aged 56)
Nationality
Germany
Occupation
Engineer
Engineering career
Projects
Camera
Oskar Barnack (Nuthe-Urstromtal, Brandenburg, 1 November 1879 – Bad Nauheim, Hesse, 16 January 1936) was an inventor and German photographer who built, in 1913, what would later become the first commercially successful 35mm still-camera, subsequently called Ur-Leica at Ernst Leitz Optische Werke (the Leitz factory) in Wetzlar.[1]
Life and career
Barnack was an engineer at the Leitz company and suffered from asthma, so he proposed reducing the size and weight of cameras in order to be able to take photographs in his travels. In 1924 the camera was named Leica, an anagram obtained from Leitz Camera. It was released at the Leipzig Fair in 1925.
Between 1913 and 1914 Barnack adapted 35 mm cinematic film for still-camera use with a larger negative than other 35mm cameras. The pronged-film rollers holding the perforated film allowed more precision than typical paper-backed roll film. His design was revolutionary, because he transported the film horizontally, allowing an extended frame size to 24×36 mm with a 2:3 aspect ratio, instead of the 18×24 mm of cameras that carried the film vertically. Negatives in this small format could be enlarged to obtain sharper positive images. For this to be effective, the camera also needed a high quality lens capable of producing the quality achieved with larger format film.
Barnack tried various types of lenses trying to find the best quality images. At the time lenses for existing 35mm cameras covered the 18×24 mm frame format, so the larger Leica frame size was only partially covered. Existing Leitz and competing Zeiss lenses were either too large for the camera, or would not cover the 24×36 frame. In order to achieve the necessary resolution for a satisfactory enlargement, the 24×36 mm format needed a specially designed lens. Leica's first suitable lens was a 50 mm f/3.5 design based on the "Cooke triplet"; this would later evolve into the famous Leica Elmar series of lenses.
In 1923 Barnack convinced his boss, Ernst Leitz II, to make a series of 31 pre-production cameras for the factory and for outdoor photographers. Although the prototypes received a mixed reception, Ernst Leitz decided in 1924 to produce the camera. It was a success when presented at the Spring Fair of Leipzig in 1925 as the Leica I (Leitz camera).
Barnack was also one of the first photographers to create news images in which the relationship of people to their surroundings could be seen. In this style he made what is considered the first news image made with a 35 mm camera, showing the flood caused by the Lahn River in Wetzlar.
In 1979, on the occasion of the centenary of its birth, the Leica Oskar Barnack Prize was awarded, endowed with 5000 euros and awarded in July at the Meetings of Arles.
Oscar Barnack Prize
An international jury awards the Leica Oskar Barnack Prize to professional photographers, whose powers of observation capture and express the relationship between man and the environment in the most graphic way in a sequence of a minimum of 10 to a maximum of 12 images.
Input presentations must be an autonomous series of images in which the photographer perceives and documents the interaction between man and the environment with an acute vision and contemporary visual style: creative, breakthrough and innovative. Only one entry per photographer is accepted. In addition to these categories of "Leica Oskar Barnack Prize" and "Leica Oskar Barnack Award Newcomer Prize", ten finalists will be awarded with a cash prize of 2,500 euros for their series. [2]
The winner of the main category "Leica Oskar Barnack Award" receives a cash prize of 25,000 euros and also a Leica M camera and a loan worth 10,000 euros.[2]
Collections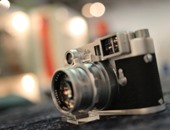 الثلاثاء، 10 نوفمبر 2015 متحتفل الأوساط الفنية الألمانية بذكرى مرور 100 عام على اختراع كاميرا التصوير الفوتوغرافى، التى تعرف باسم "ليكا" من اختراع المصور الألمانى أوسكار بارناك.
Oskar Barnack
From 1914, Oskar Barnack (1879–1936), the inventor of the Leica, used the prototype camera he developed, today known as the Ur-Leica, for photography.
He captured various events in entire series of photographs and became one of the earliest photographers to document the relationships between man and the environment. For instance, his photography of the floods in Wetzlar in 1920 is now considered to be the first reportage series shot with a 35 mm still film camera.
The award named after this photographic pioneer was first awarded in 1979, on the occasion of the 100th anniversary of Oskar Barnack's birth.